The Fishing ~ Halibut & Salmon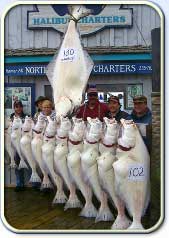 The halibut fishing out of Homer can really only be described as excellent. The daily bag limit is 2 halibut per person, per day, one of which must be 28 inches or UNDER in length. This regulation was put into effect by the Feds at the start of the 2014 season. 2023 closed Tuesdays & Wednesdays for halibut. Therefore, the Falcon will be accepting bookings for Salmon, Grey Cod and or Rockfish on all closed days for the remainder of the season.
On a typical day of fishing on the Falcon, you will catch more than 2 fish, but you can only keep 2. Catch and release is becoming more popular all the time, and I have no problem releasing fish if you have more than you can use. All fish brought aboard are killed and bled immediately, ensuring the fillets are the best possible quality. It is as fresh as it gets, and I'm sure when you sit down to eat some you will agree it doesn't get any better.

Also caught aboard the "Falcon" is Grey Cod, which is a wonderful firm white fillet. It freezes very well and is delicious. It is every bit as tasty as the Atlantic Cod, which most East coast fishermen have had the experience of catching. Kim and I enjoy eating the cod every bit as much as halibut.
The "Falcon" will be at anchor 90 percent of the time while fishing. That is how I have always done it. It works for me, and it usually works very well.


My deckhands and I will make sure your hook is always baited, and where you need to be to catch the big ones. My deckhands have a lifetime of experience working with me, and have proven themselves invaluable. They have never missed a day of work yet, although sometimes show up a little "rough around the edges".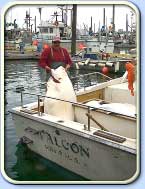 Halibut fishing can be quite a workout. On a typical day aboard the "Falcon" you will likely be using 2 lbs. of lead to get your bait down to the bottom. These fish live right on the ocean floor, and that's where you need to be to catch fish. Using a jigging motion, and keeping the bait moving helps to attract the fish to your line. Herring is one of the preferred baits for halibut. Scampi jigs can be very effective at times, and sometimes we get lucky and catch an octopus, and that is also excellent bait for these giant flatfish. Most of the halibut fishing done on the "Falcon" is at anchor, and in less than 300 feet of water. Over the years, some of the best catches on the "Falcon" have come from the shallow waters of the kelp beds. These fish swim around in as little as 10 feet of water. Being at the right spot at the right time is the trick, and I will do my best to park the boat in that spot!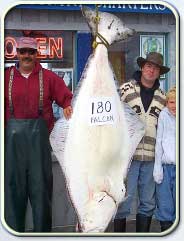 The equipment you will be using on board is top of the line. I have 2 speed Shimano TLD reels spooled with 80# power pro fishing line. The rods are a solid glass 5 ½ foot stand up, and gives you the leverage to pull that "barn door" to the surface. I have rod belts on board for everyone, and also have shoulder harnesses if needed. All terminal tackle and bait are included as well. Having the best equipment DOES make difference in the success of your fishing trip.
Quite a few of my regular clients bring their own gear, and if you want to use your own rod and reel, feel free to bring it along. If it's not working right, I won't hesitate to let you know.


The salmon fishing out of Homer is also excellent. King salmon trolling in the spring is done using downriggers, with either bait, or artificial tackle. Catching a big king out of the salt is a thrill, and when it hits the barbecue, it can't be beat. The feeder kings are some of the finest eating that comes out of the ocean. The kings are typically found within an hour boat ride from the dock.
Silver salmon fishing is also excellent in late summer and fall. Usually kicking off in the middle of July, silver salmon return to Cook Inlet as they head for the rivers they were hatched in. The limit for these feisty fish is 3 per day out of the Salt, and are a ball to catch. Starting in mid July the "Falcon" will offer combination halibut / silver fishing for an additional $50 per person. If because of the circumstances that we can only fish for one species on that day, the $50 will be refunded.



Filleting is included in the price of a charter aboard the "Falcon". Once the fish are cleaned, we recommend Coal Point Trading Co. to vacuum pack, freeze and ship your catch back home. They do an excellent job, and will make sure your fish gets to you in the highest quality. You can check out their web site at http://www.welovefish.com/ for prices.

You will need to bring whatever you want to eat and drink for the day, warm layered clothing, rubber boots if you have a pair and some rain gear, just in case. A camera or video camera is also a good idea, as you never know what you're going to see! On a typical day of halibut fishing, we leave the dock at 0630 and the trip may last up to 10 hours, depending on the fishing. An Alaska sportfishing license is required, and for king salmon, a stamp must also be purchased.

[ Home ] [ The Falcon ] [ The Fishing ] [ The Area ] [ Some Thoughts ] [ Booking ] [ Weather & Tides ]